August 11, 2022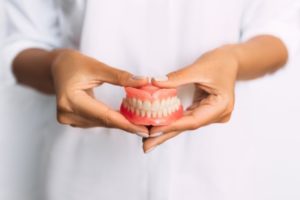 Your teeth are the best available tools at your disposal for several different things; biting and chewing are among the first that come to mind, but something else that your teeth assist you with is speech. And sometimes, dental restorations like dentures can actually inhibit your ability to talk! That said, this is normal and nothing to worry about, and with the right knowledge and arsenal of tips and tricks, you can quickly master speaking perfectly and elegantly while wearing your dentures. Here's more from your dentist in Jacksonville.
What to Expect When You Receive Dentures
Dentures are one of the most commonly sought solutions for replacing missing teeth, and many people turn towards the prosthetics for an enhanced quality of life. Traditional dentures rely on a combination of adhesives, suction, and muscle control to remain in place over the gums. With proper care and maintenance, they can last and assist patients for several years.
However, as handy as dentures are, they're far from perfect—and many patients notice that upon receiving dentures, their ability to speak is affected. Talking while wearing dentures can cause speech changes like lisping, slurring, stuttering, and more. They can also cause clicking sounds or start shifting around your mouth when you speak. Words with "s" or "f" sounds might also be difficult to pronounce and speaking in front of others can quickly become awkward and embarrassing! Your voice might even sound different to you at first since the sound is reaching your ears through the vibrations in the bones of the jaw and skull.
Tips for Talking with Dentures
Fortunately, there are several tips and tricks you can implement to help you become accustomed to speaking while wearing your dentures. Consider the following:
Ensure your dentures are in the correct position – Biting and swallowing before speaking can help to get your dentures positioned properly; a denture adhesive cream can also help to prevent them from slipping and sliding around your mouth.
Practice reading and speaking aloud – Reading out loud while wearing your dentures can help you get used to saying common words and help you to gauge how quickly and how loudly you can speak. Practicing in front of a mirror or conversing with a friend or family member can also help you to get those reps in.
Focus on pronunciation – This might take some time, but certain words, sounds, and phrases will be tough to pronounce at first; counting from 60 to 90 can help you practice some of these hard-to-pronounce sounds.
Be patient – You will not be a master of wearing and talking with your dentures at first—it will take some time and practice! That said, have a little patience and don't forsake practicing; it usually takes between 15 – 30 days for most patients to become used to speaking and eating normally with their dentures.
If you've just received dentures and talking normally seems hopeless, don't worry! Once you're used to your dentures and have gotten plenty of practice in, you'll be back to speaking, laughing, eating, and smiling as usual.
About the Author
Dr. Ryan Johnson has proudly served patients and families in Jacksonville for several years. Dr. Johnson received his DDS from the University of Colorado School of Dental Medicine and is currently pursuing a Fellowship with the prestigious Academy of General Dentistry. His practice is pleased to offer many available services including restorative dentistry options like dentures. If you have any questions about dentures or would like to schedule a visit, feel free to reach out online or over the phone: (904) 281-2566.
Comments Off

on Tips & Tricks for Talking While Wearing Dentures