Dentures – Jacksonville, FL
Proven Results with Trusted Prosthetics
Missing an entire row of teeth can drastically change the way you eat and speak. Not to mention, your self-esteem may take a hit when forced to perform these normal, daily tasks around family, friends, and colleagues. Fortunately, at Jacksonville Dental Excellence, our team of experts is well-versed in working with individuals experiencing tooth loss. Offering dentures in Jacksonville as a proven solution, we can deliver beautiful results that last longer and look more natural than prosthetics designed 20 or 30 years ago. If you are tired of the daily challenges of living without a complete smile, contact us today to schedule an appointment.
Why Choose Jacksonville Dental Excellence for Dentures?
Personalized Dental Care in a State-of-the-Art Facility
High Quality Materials Designed for Greater Dental and Wellness Goals
Dental Insurance Welcome and Financing Available
Who is a Good Candidate for Dentures?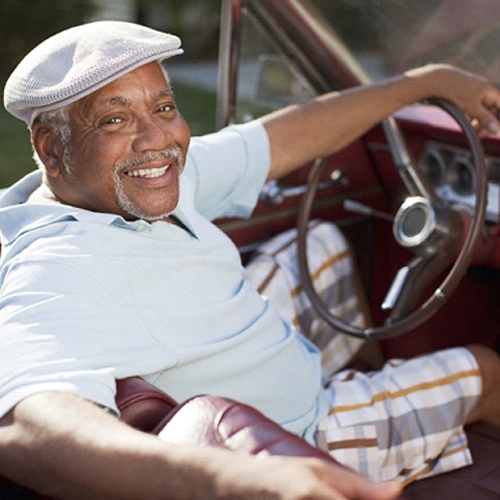 Whether you're missing one, several, or all of your pearly whites, nearly everyone can be eligible for dentures. These prosthetic teeth are versatile and custom-designed to help restore your unique smile. That said, the best way to determine if you are or aren't a good candidate for this treatment is by scheduling an initial consultation with our team. Even if dentures may not currently be a viable option for you, we might be able to help by restoring the health of your jawbone structure and gum line.
Effects of Missing Teeth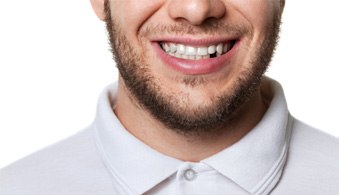 According to the American College of Prosthodontists, some of the most common causes of missing teeth involve gum disease, dental decay, and injury. If your gums are infected or inflamed, this can damage the connective tissue that holds your pearly whites in place. Sometimes a decayed tooth that's beyond repair may require an extraction to preserve your oral health. And if you've taken a significant blow to the mouth, it can cause a tooth to be knocked out.
Whenever you lose teeth, the jawbone can begin to shrink due to a lack of stimulation of blood flow. This can cause the bone tissue to weaken, increasing the risk of further tooth loss. Without a root to promote a strong jawbone, you can also experience complications like facial sagging, difficulty eating, trouble speaking, and lower self-confidence.
What Qualifies You for Dentures?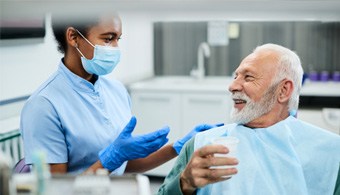 Most people who suffer from extensive tooth loss are eligible to receive dentures. These tried-and-true prosthetics have been around for centuries helping people eat, speak, and smile with greater confidence. Although the materials and techniques used to craft these reliable prosthetics have changed over the years, their ability to provide a complete smile where a missing row of teeth once existed remains the same.
Even if you don't think you'll qualify for treatment, it's best to schedule a consultation with a dentist in Jacksonville. Our team knows what to look for and how well one of these unique prosthetics will work for your smile. During your visit, we'll determine which type of denture you'll need (i.e., full, partial, or implant denture). As long as you're in good general health and possess healthy gums, have enough jawbone, and are missing an entire row of teeth, you'll be eligible for treatment.
Alternative Tooth-Replacement Options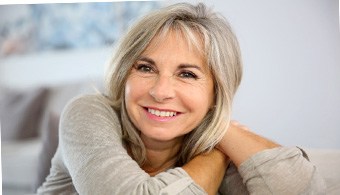 If dentures aren't a viable option for you, our team may be able to provide you with alternative tooth-replacement solutions. These may include:
Dental bridges bridges – These restorations are best for those who are missing one or several teeth in a row. For them to work, you'll need to have nearby healthy teeth on either side of the gap to support the bridge.
Dental implants– Our team can embed titanium posts directly into your jawbone to support your new teeth. This option requires a strong facial structure and sufficient bone density. While it comes with a higher upfront cost, the results can be enjoyed for a lifetime.
Learn More About Dental Bridges Learn More About Dental Implants
How Dentures Are Made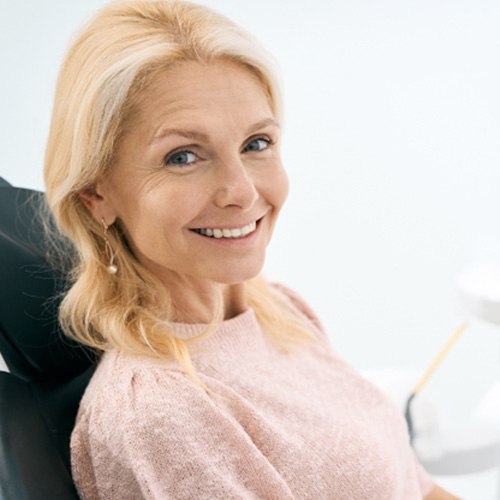 Even if dentures seem like your ideal solution to restoring your missing teeth, you'll likely still want to know what to expect from your treatment. Other than how your restorations function, you might be curious to understand how they'll be made and what materials they'll be constructed from. Whether you're interested in getting partial, full, or immediate dentures, it's a good idea to know how similar the process is for each type. Read on to learn how dentures are made in Jacksonville so that you can become familiar with your new pearly whites.
What Are Dentures Made Of?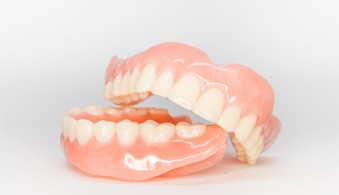 Dentures are typically made up of two components:
Denture base – This will be the foundation for your prosthetic teeth, offering the necessary structural support. The material can be constructed out of acrylic, resin, nylon, porcelain, or even metal. That said, most full dentures are made by using acrylic due to their ability to be specifically matched to your natural gum tissue.
Artificial teeth – Generally, your prosthetic teeth will be made out of resin or porcelain since these two materials have a more natural appearance. Porcelain, however, is the more popular option, as it can closely mimic the look and feel of normal pearly whites. It is also durable and can last much longer with proper care.
The Denture Creation Process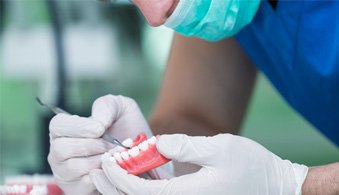 Receiving dentures involves a multi-step process that usually takes several weeks to a few months to complete. The first part of your treatment will include your dentist taking impressions of your smile. These will be used to create a mold of your mouth to base the size and shape of your final dentures.
Our team will send the mold to a trusty dental lab that will work on developing your dentures. Your prosthetic teeth will be made out of acrylic resin and positioned into a wax replica of your gum line. The dental technician will use a special device to sculpt the wax until it matches exactly with your gums. They'll send the wax dentures to our office so we can get them fitted. After we approve the mock-up, they'll be sent back for finalization.
At this point, a lab technician will get rid of the wax material by boiling the dentures. The restorations will then be placed in a flask while plaster will be utilized to maintain their shape. Holes will be formed in the artificial teeth so that the material can attach to them. Once the denture is trimmed, cut, and sculpted to perfection, the lab will send them back to us.
We'll have you return to our office for your final fitting. Your dentist will make any necessary adjustments to make sure the appearance and function of your dentures are reliable and to your liking. After this, you should be free to enjoy your brand-new pearly whites!
Adjusting to Your New Dentures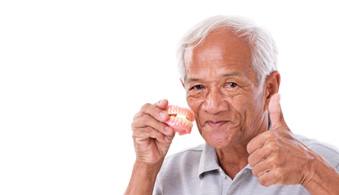 When first receiving your dentures, it can take some time to get accustomed to them. In fact, you might experience some mild discomfort or soreness for a few days, and it can even be challenging to learn how to eat and speak with them. Even so, your mouth will eventually get used to your new teeth to the point where they'll feel like your natural smile. To speed up this adjustment process, consider the following tips:
• Sticking to a softer food diet
• Exercising your facial muscles
• Using denture adhesives for stability
What Are the Different Types of Dentures?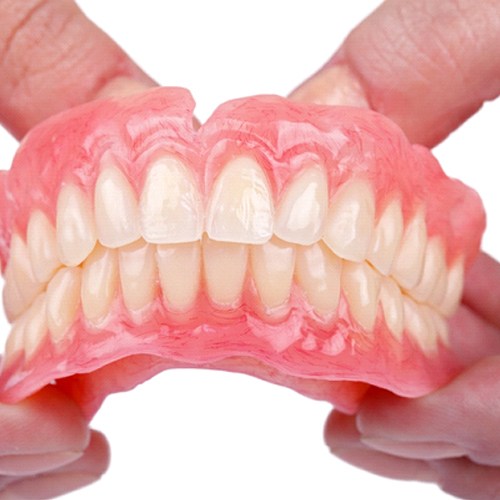 When meeting with our team at Jacksonville Dental Excellence, you will find there are three types of dentures to choose from:
Partial Dentures
This type of prosthetic will be recommended if you are missing multiple nonconsecutive teeth along the top or bottom arch of your mouth. No matter if it's 2,3, or 4 teeth that are missing, you will notice a significant difference in the way you eat and speak. Fortunately, we can have a partial denture crafted using an acrylic, gum-colored base and artificial teeth that will fit into place just like a puzzle piece. Using metal clasps or clips, the partial will remain anchored in your smile by attaching to natural, healthy teeth.
Full Dentures
Made from the same materials as a partial denture, the only way you will be recommended for a full prosthetic is if you are missing an entire row of teeth. These can be created for the top or bottom arch, and they sit on your gums, remaining firmly in place with the help of your natural suction and a bit of dental adhesive. Once in place, you'll be free to speak, smile, and eat more confidently than before.
Implant Dentures
If you desire a more permanent prosthetic, you cannot go wrong with implant dentures. Held into place by small titanium posts that are surgically implanted into your jawbone, these uniquely superior prosthetics look and feel completely natural and can last a lifetime with proper care and maintenance. More than 500,000 dental implants are placed each year, making them a popular option among individuals with tooth loss.
Learn More About Implant Dentures
Benefits of Dentures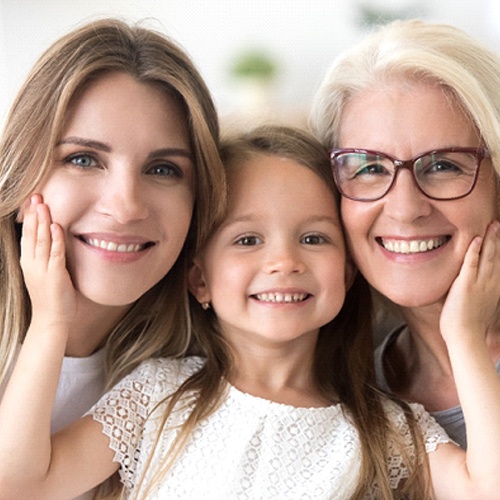 You will find that once you receive your dentures, your ability to do the most common daily tasks is much easier than before. Tooth loss can wreak havoc on your oral and overall health, keeping you from consuming the nutrients your body needs to be effective. However, with dentures, you can expect an array of benefits, such as:
A new and improved appearance that boosts your confidence
The ability to eat and consume a healthy diet
Clearer speech
The ability to achieve a more youthful look because of your prosthetic's ability to reduce the chance of "facial collapse"
The opportunity to embrace a smile that can last 30 years or longer (implant dentures)
Understanding the Cost of Dentures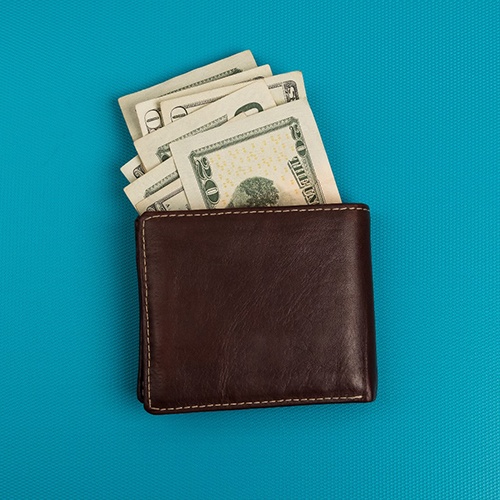 The cost of dentures varies significantly from person to person. There are numerous factors that contribute to the overall cost. During your initial consultation, you will be able to discuss exactly how much you can expect to pay in order to restore the health and function of your smile. Until then, here are some things that you should be keeping in mind.
Factors that Affect the Cost of Dentures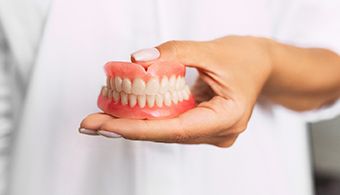 There are three main factors that contribute to the overall cost of your dentures:
The preparation before the denture can be worn will add to the cost. For instance, if you need gum disease therapy or a tooth extraction.
The materials used for the base and replacement teeth influence the price. The base is generally made from acrylic, while replacement teeth can be made from acrylic or porcelain.
The number of teeth that you are having replaced.
Cheaper doesn't mean better when it comes to tooth replacement. Budget dentures are much more likely to become damaged and require frequent repairs and replacements. If you are looking for optimal function and appearance, investing in quality dentures is a must!
Are Implant Dentures More Expensive?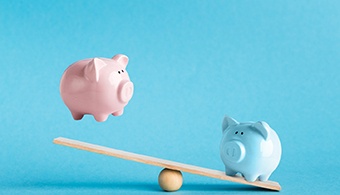 Implant dentures tend to cost more than traditional dentures. Instead of being supported by the suction and shape of the gum tissue, implant dentures are held in place by a series of dental implants that are put directly into the jawbone. This allows for numerous additional benefits, including being more lifelike and having additional stability. You don't need to worry about replacing your dentures every 5 to 7 years either, as they are longer lasting.
Does Dental Insurance Cover Dentures?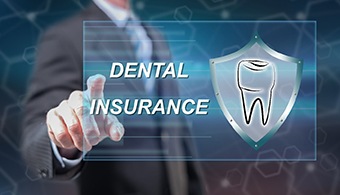 Most dental insurance plans provide some level of coverage when it comes to dentures – usually up to 50%, but this varies depending on your provider. A Jacksonville Dental Excellence, we comprehensively verify your insurance and file all claims on your behalf.
Other Options for Making Dentures Affordable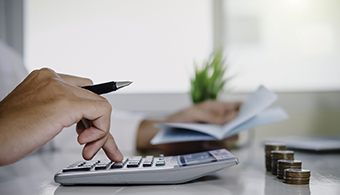 If you don't have insurance and are unable to pay for treatment all at once, it is possible to get low-to-no interest financing. Patients are able to sign up for plans that are as short as 6-months or as long as 36 months based on needs and credit approval. Our options feature no surprise fees, hidden charges, or prepayment penalties.
The best way to know how much your dentures will cost is by attending an initial consultation. This way, we can help to restore your smile!
Denture Aftercare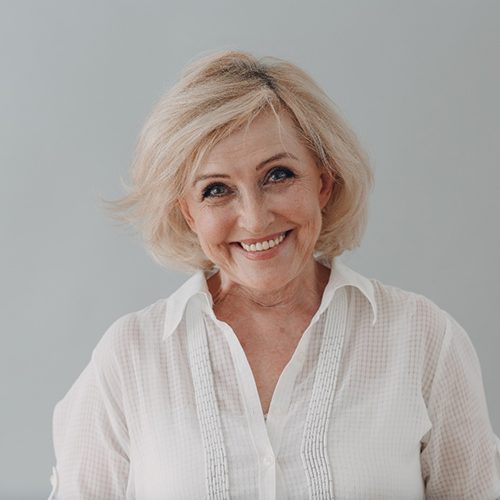 When you get dentures, you may think your dental problems are now solved. After all, your new teeth are artificial and won't decay! The truth, though, is that you still need oral care. Dentures require periodic maintenance and depend on a healthy mouth for support. As such, seeing your dentist regularly and following good oral habits is best. Fortunately, we at Jacksonville Dental Excellence have some tips on caring for dentures. To learn about them, keep reading or call us for the details.
Removeable Dentures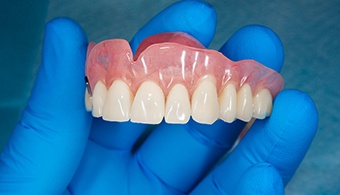 Remove After Eating
After you've finished a meal, remove and rinse off your dentures. This habit keeps food debris and plaque from building up in the prosthetics.
At the same time, don't use hot water for the rinse. High temperatures can warp denture material. As such, the heated water may cause the dentures to fit poorly with time.
Clean Your Restoration
Once daily, you should also remove your dentures to clean them. You'll be at risk of gum disease and similar conditions otherwise.
For the cleaning, only use a soft-bristled toothbrush and a small amount of hand soap. Regular toothpaste won't work, as its abrasiveness can harm dentures.
If you have time, place the dentures in water or a cleansing solution after brushing them. Then, rinse the restorations before putting them back in your mouth.
Keep Your Dentures Safe
Your dentures' safety is also a priority. They're surprisingly fragile, so you'll want to protect them.
For example, keep a towel handy for denture cleanings. Placing one beneath the prosthetics will cushion them in case they fall.
Similarly, always try to store dentures away from small kids or pets. The latter groups could find them and cause damage.
Remove Dentures When You Sleep
Before bed, take your dentures out and store them in a glass of soaking solution. Sleeping with the prosthetics in your mouth will just cause problems.
For starters, remember that using dentures restricts your gums' circulation. Therefore, wearing them to bed could lead to soft-tissue irritation.
Furthermore, using dentures overnight is unsanitary. The action has been associated with a high pneumonia risk and raised gum and tongue plaque levels.
Notice Changes
As you adjust to your dentures, look out for changes in them or your mouth. It's best to address such shifts with your local dentist.
For example, see a dentist quickly if the dentures start to fit poorly or get damaged. Trying to fix them yourself will likely do further harm. In contrast, a dental provider can refit, reline, or even replace the prosthetics.
All-on-4 Dentures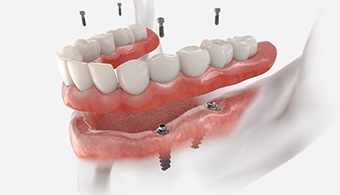 Unlike removable ones, all-on-4 dentures are permanent and irremovable. They thus require their own care techniques. These include:
Twice-Daily Brushing – Using a soft-bristled manual or electric toothbrush, brush your dentures twice daily with a non-abrasive toothpaste.
Once-Daily Flossing – Floss your replacement teeth once a day. Floss threaders can help you floss beneath the denture. (You could also use a water flosser if necessary.)
Attention to the Gumline – Consider a sulcus brush when cleaning between the restoration and the gums. This kind is 1/3 the width of regular toothbrushes, making it a great option.
Daily Mouth Rinses – To prevent the growth of tarter, rinse your mouth with antibacterial mouthwash daily.
Denture FAQs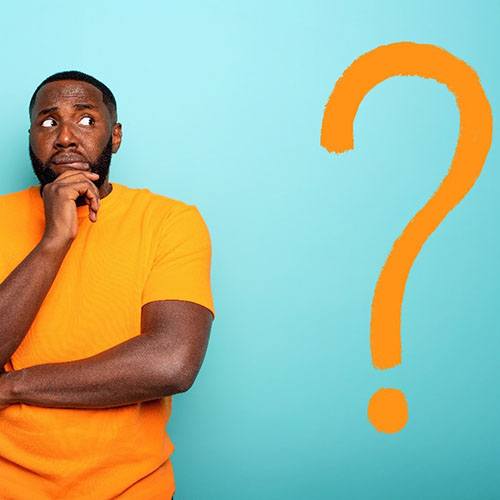 If you're ready to overcome tooth loss and experience proven results with trusted prosthetics, we invite you to come visit us for a denture consultation. We want you to feel confident in your decision about how to replace your missing teeth, which is why we've gathered some of the most common questions we get about dentures below. If you don't' see the information you're looking for, don't hesitate to give us a call!
How Long Do I Have to Wait to Get Dentures After Having a Tooth Pulled?
We need to take precise impressions of your gums and mouth to create a denture that fits snugly but comfortably. Once a tooth has been extracted, the area will naturally swell as it heals, which would create inaccurate impressions and a denture that doesn't fit. We will likely recommend that you wait anywhere between two and six weeks after having a tooth or teeth pulled before fitting you with dentures. This will give your gums plenty of time to heal so we can capture precise impressions for a denture that fits comfortably.
Can I Sleep With My Dentures In?
For the first week or so after receiving your new dentures, you'll likely be instructed to wear them as often as possible, including as you go to sleep every night. This will help your mouth adjust to the new dentures. However, after this phase, you'll need to switch to taking your dentures out before bedtime and soaking them every night. While this may seem somewhat inconvenient at first, it's important to keep in mind that this is the most effective way to clean out all the nooks and crannies in your dentures and minimize your risk of oral health issues. It's also important for encouraging circulation in your gums, which is essential for keeping them healthy.
Am I Too Young to Get Dentures?
It's no secret that tooth loss becomes more common with time, but that doesn't mean younger people can't want or need dentures! Severe tooth loss can strike at any time of life for a variety of reasons, whether it's advanced gum disease, genetics, a serious accident, or some other specific circumstance. Fortunately, dentures are a great choice for adults at any stage of life who need to replace missing teeth. Most patients are excellent candidates for dentures, but we'll double check to make sure they're the right choice for you during your consultation.
Is Wearing Dentures Uncomfortable?
It's no secret that you'll need to go through an adjustment period after getting your dentures. Your gums, tongue, and entire mouth will need some time to get use to the presence of your new prosthetic. It's normal to experience some mild soreness, gum irritation, and awkwardness at first. The physical symptoms you experience should be easy to manage with diet adjustments and over-the-counter pain relievers. To help your mouth adjust to your new dentures, practice talking out loud, especially words that are giving you trouble, and remember to cut your food into smaller pieces and intentionally chew on both sides of your mouth at the same time. While everyone is different, most patients take about a month to adjust to their new dentures.