August 4, 2022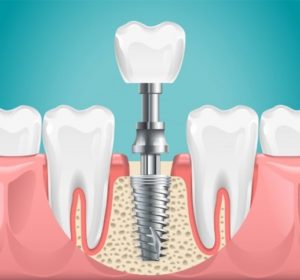 Roughly 170 million Americans struggle with missing teeth—and this number is sadly expected to grow! That said, having missing teeth isn't something you should just shrug off; not replacing those pearly whites can often lead to some serious consequences, not to mention the huge blow it'll deliver to your self-confidence. But what about missing back teeth? Are lost molars just as problematic as lost front teeth? Here's more from your dentist in Jacksonville about why missing molars can be just as detrimental to your smile, and how dental implants are one of the best available solutions.
Why You Should Replace Your Missing Back Teeth
To put it simply, your molars are just as important as your front teeth. However, most people are much more eager to quickly replace their lost front teeth than their lost molars. This is arguably because of the direct impact your front teeth have on your self-confidence; people don't see your molars when you smile! But in reality, missing molars can lead to a plethora of oral health issues including:
Deterioration of adjacent teeth that leads to additional tooth loss, since the remaining teeth have to bear the brunt of the missing tooth's job.
Difficulty when chewing food, which might restrict your food choices and negatively influence your diet.
Bite misalignment resulting from adjacent teeth shifting and leaning towards the gaps left by missing teeth.
Bone resorption and facial collapse.
TMJ disorders resulting from strain on the temporomandibular joints and nearby muscles.
Why Dental Implants Are the Best Answer
One of the premier options for replacing missing teeth, dental implants are able to fully restore lost front teeth and molars alike in terms of look, feel, and functionality. That said, they come with several priceless benefits including:
Root-to-crown tooth replacement – Unlike dentures, which only replace the visible portion of your teeth, dental implants replace the entire tooth structure from the roots to the crown.
Natural in appearance – The implants are custom-made for your mouth, meaning they'll look great and fit your smile beautifully. They'll also function exactly like your natural teeth.
Impressive longevity, durability, and stability – Dental implants are made from biocompatible materials that can healthily fuse with your jawbone, meaning that they're staying in place. They can last for 20 or so years with proper care!
No extra maintenance required – Fortunately, since dental implants are so similar to your natural teeth, you simply need to care for them as you would your natural teeth. Brushing and flossing daily will ensure that they last.
If you have missing teeth, whether they're front teeth or molars, you should consider getting them replaced to stave off potential health issues. That said, dental implants are one of the best options available for replacing those lost pearly whites and talking with your dentist is the first step to getting started.
About the Practice
Jacksonville Dental Excellence proudly serves patients and families in the Jacksonville area under the leadership of Dr. Ryan Johnson and Dr. Richard Stevenson. Together they combine several years of experience to provide all of their patients with an elite level of dental care. Their practice is pleased to offer many available services including dental implants. If you have any questions about receiving implants or would like to schedule a visit, don't hesitate to contact the practice online or over the phone: (904) 281-2566.
Comments Off

on Why You Should Definitely Replace Your Missing Molars