April 8, 2023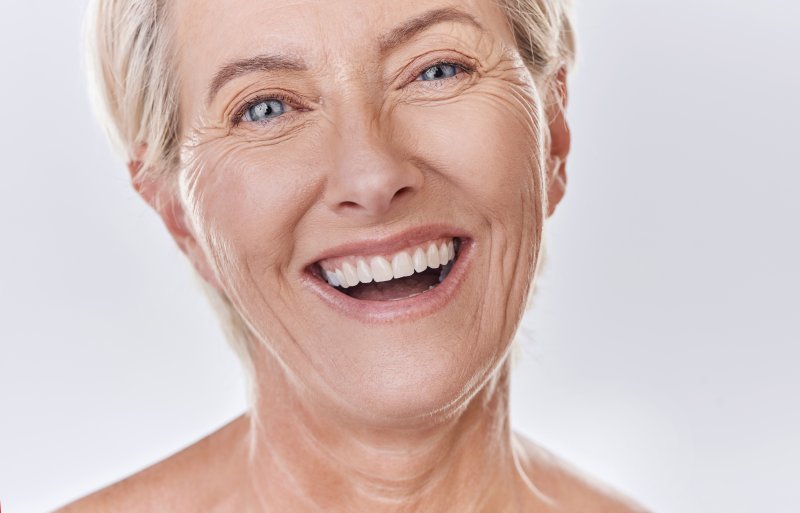 If you're someone who is missing teeth, dentures can make a massive difference in your quality of life. You can go from a smile that's full of holes to a full, beautiful set of teeth that you'll be proud to show off to others.
However, like with anything, dentures will take some getting used to. In fact, the first month or so of having dentures can present challenges for people who get them. If you want to know what those might be, and what you can do about them, here's a guide to getting through the first month of wearing dentures.
The First Day
Often, people who are getting dentures will have to have teeth extracted before getting their prosthetic. If so, the dentures you get after the extraction can act like a bandage that will protect the extraction wound. This will be the one and only time that a dentist would recommend that you wear your dentures to bed.
After 24 hours, you should return to the dentist's office so they can remove your dentures.
The First Weeks
During the first few weeks of wearing dentures, it's common for your gums to be sensitive while they get used to the prosthetic. You'll probably develop quite a few sore spots, and produce more saliva than you would otherwise.
If you find that the discomfort makes it hard to eat, you can supplement your meals with protein shakes or other liquid meals.
The First Month
Eventually, your gums will be strong enough to handle the dentures, meaning fewer sore spots. You'll probably be able to wear your dentures more often, which means that you'll have time to get used to having the prosthetic in your mouth.
Talking and eating will take a lot of practice, so try and be patient. Wear your dentures as much as possible, and you'll be used to them in no time!
About the Author
Dr. Ryan Johnson is deeply proud of the work that he does, and believes that his clinical expertise and dedication make him a dentist second to none! Dr. Johnson earned his Doctor of Dental Surgery at the University of Colorado School of Dental Medicine, and he has dedicated himself to continuing his education ever since. He's currently in the midst of pursuing a Fellowship with the Academy of General Dentistry, a distinction earned by less than 6% of dentists in the U.S.
If you have any questions about dentures, he can be reached at his website or by phone at (904) 895-4536.
Comments Off

on Getting Through the First Month of Wearing Dentures